Style is a reflection of one's tastes, personality, goals, etc. It can be unique to every woman since every woman possess their own unique beauty. Sadly too many women settle for trying to look like someone else instead of embracing and cultivating their own style.
Did you know that about 75% of Women wear the wrong size bra?
I dare to say that about the same percentage are wearing the wrong clothing. And by wrong I mean wrong fit,  wrong size, wrong colors, wrong styles,  wrong proportions, wrong cloth combinations and the list can go on and on. With a wardrobe  full of the wrong clothes why are we surprised that we can't put together a decent outfit everyday without stress? If you can't put together an outfit in less than 3 minutes then something is truly wrong!  The right clothes in any closet makes outfit selection a cinch!!!
Here at Dressed In 10 we can to provide you with endless style information that will help you express and develop your unique beauty.  In order to do so we believe STYLE EDUCATION is the KEY!!! We believe in the fundamentals of style education that will help transform the way you think from the inside out. So we are introducing the……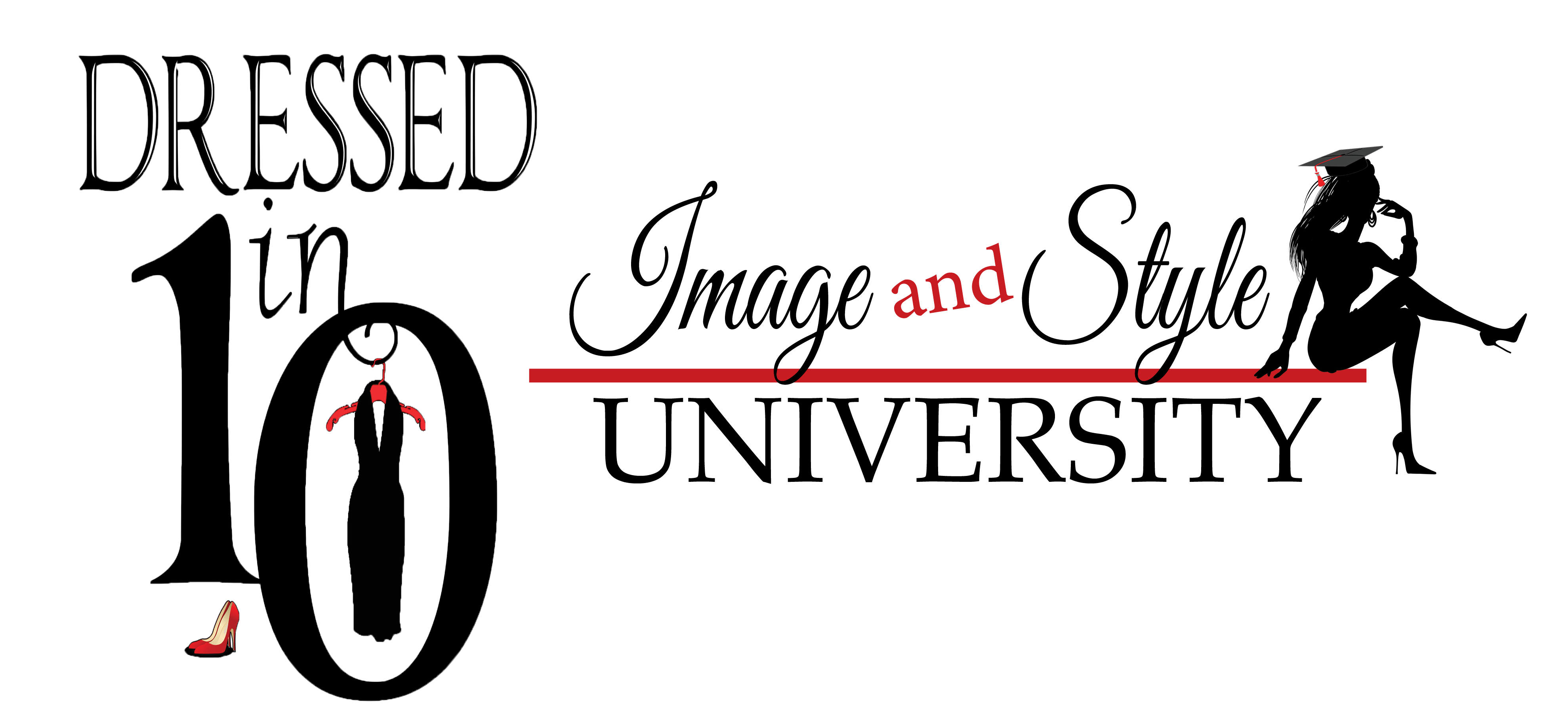 The DI10 Style and Image University is all about educating the Woman on the Go to give her all the necessary style and fashion resources she needs to look fabulous everyday without the fuss.
With the DI10 Style University you will learn your own unique DI10 S.T.Y.L.E FormulaTM
Our Image and Style University offers the following course topics:
Week 1: Intro to Style and Body Shape
In this course you'll learn the fundamentals of style and how good style is achievable for ALL women no matter what they look like or how limited their time. The body shape course will introduce the 6 most common body types and provide in depth information on how to accentuate every one.
Week 2: Tone and Color
Color is one of the easiest ways to make your wardrobe come alive! You get more bang for your buck with color. Learn the fundamentals of color theory and how colors are created. Then learn how to match the right colors to your 3 most important features. With that information you're then ready to learn all the ways you can incorporate color into your wardrobe.
Week 3: Discovering Your Unique Sense of Style: Lifestyle & Personality
True style is about knowing yourself and projecting it. You'll learn how to tap deep into your style desires and how to project them in a way that suits you best!
Week 4: Accessories and Extras—Jewelry, Shoes, Hair and Makeup!
No outfit would be complete without the right accessories! There are endless options and picking what suits you best can often be overwhelming. Let me help simplify that process for you!
Week 5: Creating a Winning Wardrobe!
Now that you know which individual pieces will work for you its now time to put them together to create the perfect wardrobe! You create a personalized style plan to help you!
Week 6: Wardrobe Organization & Rehabilitation
Out with the old and in with the new! Now that you know what works for your body you clearly know what doesn't. You'll learn how to reorganize your wardrobe to help you achieve maximum efficiency and zero stress!
There are 3 University Learning Packages to choose from….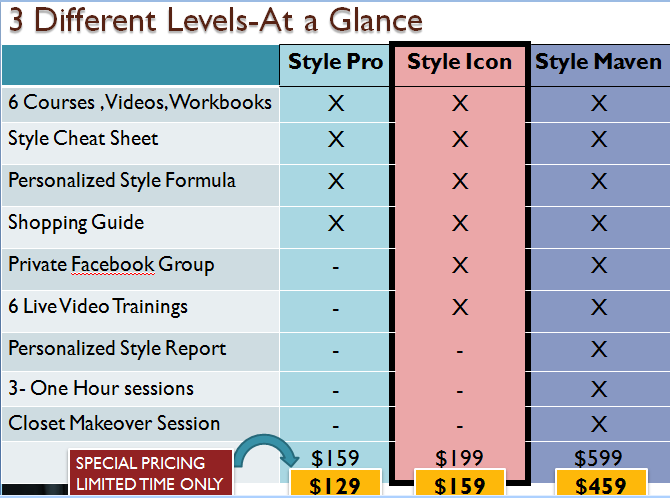 For the cost of 2 outfits  you can gain access to invaluable and personalized style education! The value of these packets are enormous and will pay for themselves 100X over when you've MASTERED your style!
If you have any questions or need help deciding which package will work best for you please don't hesitate to call me at 843-940-8950. Payment options are available!