In addition to our full on DI10 Image and Style University Learning system there are smaller courses available on various topics. These are the individual courses in the University packets. Each course detail is HERE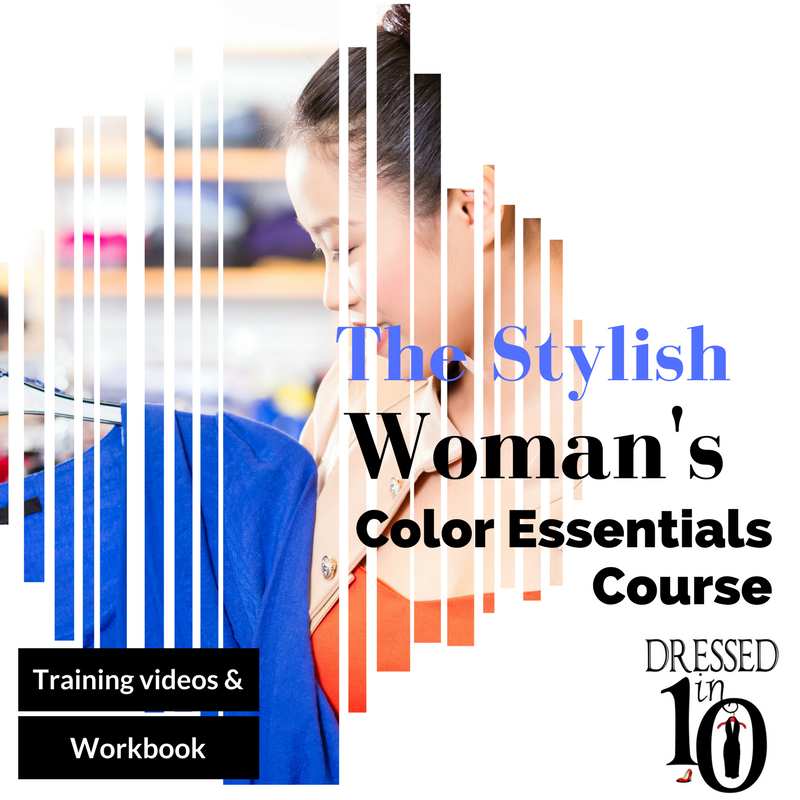 Dressed In 10's The Stylish Woman's Color Essentials Course
72 Minute video/ Syllabus and Workbook included
Color is one of the most important elements in a woman's wardrobe. It can single-handedly take your wardrobe from drab to fab! If you think of it color is usually the first change most people make when redecorating a house. I believe it's underutilized in women's wardrobes today. Many women don't know how to use color so maximize their style. They're unsure of which colors work for them. The right colors make your hair, skin and smile vibrant while the wrong colors will negatively impact you making you looked aged and tired. If you want to learn how to use color in your wardrobe like professional stylists then look no further. This course has all of the training information you need to give you the confidence to identify your favorite colors and many options on how to implement them into your wardrobe. Go from a novice to a Pro with this course. This course covers the following:
 ON SALE $24.95    Regularly $39.95

-Understanding color theory and how colors are made
-The importance of your undertones and how it helps you determine your warmth or coolness
-The 6 Tonal groups and which one you fit into
-How tint, tone, and shade impacts colors
-How to use your 3 features: hair, skin and eyes to pick the correct colors
-10 Color strategies you can begin using in your wardrobe NOW!
-How to work with prints of various colors and sizes
-Bad color fixes
-Color case studies
-Shopping strategies
This comprehensive color gives you the essential color information and how to start making the right colors work for your wardrobe! Every woman deserves to look as fabulous as possible. The right use of color can make that happen!!!