I don't know about you but I'm contemplating a complete hairstyle makeover.  So I understand some women and men approach their hair styling differently. There are those who pick one style and as the decades roll by they still have it. They literally have a long lasting commitment to that style. But the downside is the style in most cases has been outdated by a few decades. Then there are those who will change their style on occasion or after a few years. Oftentimes these changes are marked by life changes—new child, new job, new home, child has successfully potty trained LOL—you get my drift, right? And then there are those fashionistas who will literally have a hairstyle in the morning and a new one by the afternoon. Ok, well maybe I'm exaggerating but they love to change their look ALOT and are a bit like chameleons that way. Well I fall into that second category. I'll usually hold on to my hairstyle for a few years. Now mind you my near shoulder length hair is rotated into 3 styles: top of the head ponytail, side part and back ponytail and worn down. I choose the appropriate style dependent upon what I'm wearing or my mood. But all 3 work well and don't require me to stress over them.
Having a great hairstyle makes all the difference in how easy and effortlessly you're able to get dressed and ready. Dressed In 10 is of course concerned with that fact. No one wants a hairstyle they have to fuss with all of the time. I mean yes, only if you're going to a fancy event but for your everyday style—no!
So back to the fact that I want to change up my style a bit. I didn't really know where to start so I started a place I VOWED to never go—the wig shop LOL! For years the thought of wigs had terrified me. I mean I'm a child of the 70's and have you seen some of the wigs back then??? But I didn't realize that wigs have come a long way and are made to wear more comfortably and look more realistic. Knowing this helped relax the tension I'd had in my stomach regarding wigs all these years and I was able to go into the wig shop confident and expectant to learn something about different style and perhaps finding the right style for me. Besides I could try on a wig to determine the style of hair or cut I wanted to get or I could just end of buying the wig as a temporary style change.
I was fortunate to have a WONDERFUL young worker help me! Trust me, that help made all of the difference. She was very experienced with different styles (her hair was dyed bright red) and knew her wigs expertly. Based on my preferences of short to midlength and curly to straight—she pulled out a bunch of wigs for me to try on. And I have to admit it was really cool to try on the various styles. I even took pics so I could look at them later and get the opinion of my Hubby and hairdresser. Before I show you the one I decided to go with allow me to give you a few pointer's if you decide to test drive hairstyles at the wig shop….
Bring a friend— wig tryouts are better with a second opinion!
Take pics of wigs and tags—it will help you keep track of the styles.
Wear a wig cap—usually required to keep the display styles clean.
Try on in store, buy online—sometimes you can get a better deal online!
Try on a  "wild card" style—sometimes you never know what will look good on you unless you try on something out of the ordinary!
Identify whether it's human hair and synthetic beforehand. There are pros and cons to each– human hair tends to be better quality but more expensive and some synthetics are poorly made.
Know the care instructions before you buy. You don't want to buy an expensive wig, wash incorrectly and destroy the style.
Make sure to have a good wig stand if you decide to buy. Styrofoam busts or plastic stands work well.
Take a picture (s) of the styles you want especially if you decide to get the same or similar cut or hairstyle later on. It will be a great reference for your hairdresser.
MOST IMPORTANTLY—HAVE FUN! Don't take this task too seriously! Remember these are just try-on's and not permanent. But these could help you decide on a permanent style or buy a wig!
I liked a few of the one's I tried on but decided to actually purchase one! That's right, purchase! I can't believe I could actually say that give how vehemently opposed to them I used to be. Here's the keeper……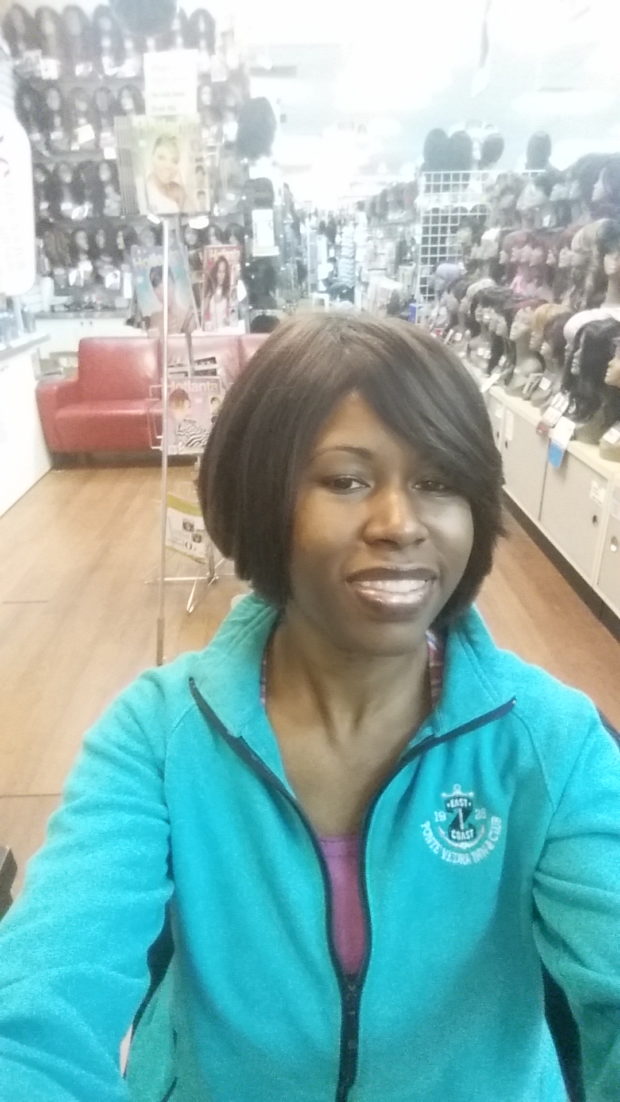 (Bought this one in a warm brown color. Love the style!)
(As you can see the package photo looks different from the actual wig. Most wigs have to be styled out of the package so this is typical. If you purchase a wig take time to style it to your liking or get a hairdresser to help you do it!)
So I was pretty excited about my purchase! And I still can't believe that I bought a wig finally after all of the years. I'm still a little reserved about wearing it out. But I know that will dissipate in time. Besides it was time for a new change! Wonder what style change I'll try next? Truth be told a hairstyle change is never a bad idea when it enhances your appearance. Besides it just might be what you need if you're feeling like you're stuck in a style rut. How about you. when was the last time you toyed with the idea of changing your hairstyle? What did you do about it???